Today we woke up to rain -- bad sign. Thankfully it stopped by the time we got to the first course, Shawnee Mission. As the 8 AM shotgun start time rolled around, the TD was nowhere to be found. At 8:20, he rolled in. Turns out he got lost! Things only got better when he said the cards had not been filled out and oh, does anyone have any blank scorecards we could use?
While the TD, Marcy, and another guy filled out the cards, some guys discovered a raccoon in a trashcan and poked it with a stick. Okay, I'm kidding. There was no poking involved.
Finally, we were sent to our holes and a few minutes later our 2009 AM Worlds began. I played with a guy from TX and MN and teed off first. I was a little nervous and excited and didn't want to choke on the first hole. Thankfully I let off a decent drive down the hill that stayed in the fairway. I threw my 50 ft approach and made my putt. A successful first hole was in the books.
I ended up feeling pretty good about how I played and was happy with my 53 (-1). I got a handful of birdies and only 2 bogeys. At one point as I walked to the next tee, it hit me how cool it was that I was playing disc golf with some of the best golfers in the world 1200 miles from home. Nice.
The weather cooperated for the most part this morning with light rain off and on. It did get pretty steamy at times and the cement teepads got slippery from the mud. Chris ended up even at 54.
Next, we headed up to Prairie Center for our 2 PM afternoon round. We had lunch and relaxed in our kickin' Toyota RAV4. Chris stetched out on the kiddie playground bridge for a nap. At about 1:30 it started to rain. At 2:00 it started to pour. Thirteen holes later it finally stopped. It sucked.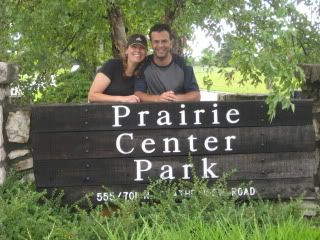 My faithful caddy Marcy had that "Why the heck am I out here again?" look on her face. My fingers were pruned. It was impossible to get off a good drive. Towels, shirts, everything was soaked. Scores suffered. Attitudes plummeted.
Then, the rain stopped and the sun made a brief appearance and all was good in the world. I finally deuced a hole after 15 previous tries. I was happy again. Laughter floated between our foursome that included another two guys from MN and a guy from Montana.
Despite my crapping driving, I shot okay with a 59 (+4), but could have done better. Chris P shot a 57 (+2). The hot score was a 47! Umm, what!?
Tonight we are drying out and relaxing. Tomorrow we face one pretty long course (WyCo) and the hilly Water Works. Then it's on to the FlyMart at night to ooh and ahh over all the latest disc golf stuff.
Now it's time for more ice. Thanks for the support NEFA! We love reading your comments.
Pokerpalooza in Montana?
In the second round, I played with Jeff from Montana who was using a Pokerpalooza disc as his main driver. After it hit me that it didn't really make sense for a guy from Montana to have a Borderland disc, he explained that he got it and several others as factory misprints from Discraft. It was pretty funny. Small world!