"Thank you, Treesus!" The sun was shining Wednesday and the rains finally stopped. We had a beautiful day for golf with temps in the upper 70s and a bit of humidity to remind us that it was still summer.
The morning round was at WyCo, a longish course with lots of open shots over rolling hills with a smattering of oak trees with low branches. Played smartly with well-placed shots, you could three most holes with a great drive, approach, and putt. There were birdie ops on some fun short holes too.
I played with two guys from Wisconsin and a guy from Louisiana. We had two distinct accents going on in our group with all the "Ays" and the Bubba Gump Shrimpesqueness. They probably thought I talked funny. Dwight from LSU introduced me to the phrase "Thank you, Treesus" when one of his drives went off course and was spit back into the fairway. Love it.
I was happy with my play and finished with a 60. Again, I made a few bad choices on a few shots and totally gacked my last drive, but I made one or two putts from well outside the circle and have discovered the joys of jump-putting. Still need some work on it, but it is starting to make sense to me.
Lucky drive through the Y tree and parked it at Water Works.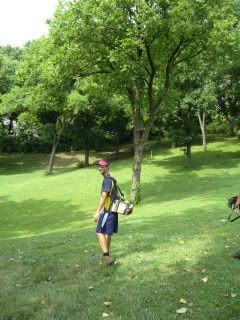 Another great thing about playing in an event like this is that you get to see different techniques from players from other parts of the country who have different shots because of the type of courses they play on. One guy from TX I played with on Tuesday threw this funky upside down pseudo flick shoulder height shot that landed on its face and skipped up to the right. He said he does that a lot because of the flat hard ground they have. Dwight from LA said they play for the skip ace a lot for the same reason. I noticed a guy from South FL where it is pretty flat had trouble with the uphill and downhill shots but pured most flat drives. Then when I made it through what I thought was a pretty easy group of trees for my approach, they'd say "Wow, great shot!" It's all relative I guess.
After round 1 we returned to the kickin' Rav4 to see that we had a flat. We jumped into action and made quick work of the tire change while accusing everyone of slashing our tire so that we'd be late for the afternoon round. Marcy bought herself a new 150 orange Stingray and a couple stickers for the car that are perfect for Devens -- Disc golfers do it in the woods.
With the tire fixed, we headed back to the hotel for lunch and a rest since our next round was in three hours. Chris went for a swim, Marcy signed us up for Rindge and Barre, and I nerded a bit on the computer.
At 2:00 we headed over to Water Works which I think is one of the older parks in KC. This course is similar to Devens in that it has lots of dramatic up and downs, but it is much longer and more open. I chuckled when I heard people worrying about the elevation. When we arrived, the last two Pro Women cards were passing through hole 1, so we got to watch them drive. When their round was over, Marcy schmoozed with Val, Des, Julianna, Liz Lopez, Birgitta, and Berl. If I only had her gift of gab. :)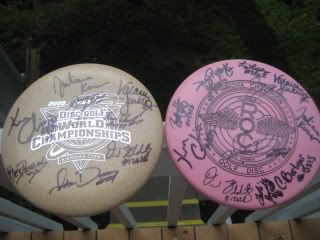 I shot a 60 and was slightly bummed because I knew I could have done better. I lost some mental focus toward the middle of the round and carded some OBs. One hole I was treated to the Water Works Roll on my putt for 3. I was putting up and across a hill about 30 ft out. The disc hit the side of the basket, caught an edge and rolled down down down about 50 ft. My jump putt went straight as an arrow and I said "Yeah baby!" Then reality struck and my Wizard clanked off the top ring of chains where they attach to the upper ring and spit out! Ugh, I went from a 3 to a 5 just like that.
Hole 1 overlooking downtown KC at Water Works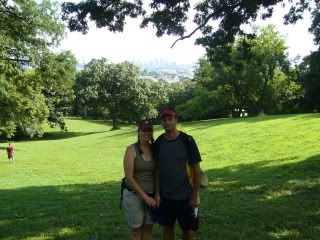 I wasn't the only one having mental problems. One guy in my group from Ohio was shooting the lights out, puring drives and nailing long putts. But then with six holes to go he fell apart and his lead evaporated as he got a couple 5s and a 6. It was mildly sad to watch because we've all been there, but hell, this is the Worlds baby. No soup for you. He ended with a 59, along with the guy from FL. I finished at 60 along with a guy from WI.
After dinner we headed over to tourney central and Fly Mart where a bunch of vendors were selling stuff. Innova had all their top pros there (Climo too) signing autographs while the other top guns were wandering around the room or over in their sponsor's booth. Since NEFA King Tim Walsh knows practically all of them, we dropped his name a lot to make a quicker connection with Nate Doss, Jay Reading, Avery Jenkins, and Dave Feldberg.
Steve Dodge's Prime Discs/Vibram booth was a popular one because he had a putting contest going on with the new Vibram putter.
Between Chris, Marcy, and I, we bought a bunch of stuff -- all critically important to our disc golf game of course!
Tired as hell, we still had to drive to the airport to exchange the kickin' RAV4 for one with no flat tires. Since Chris had an early tee time, we dropped him off first and by the time we got back it was midnight. They gave us $40 off for our troubles.
While we were gone, we were shuffled into new groups. Chris is in Pool L and I am in Pool M four strokes behind Chris. We are both in the mix and have a slim chance at making the cut, but a lot of people above us have to stink it up and we have to play absolutely perfect golf. It is funny being in a tie for 11th and only being one stroke behind those tied for 1st in my pool. A one or two stroke swing can really change things with so many people.
Approaching hole 10 at WW