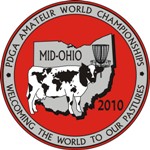 In just a few short hours Marcy, our dog Sky, and I will be heading out to Marion, OH to join over 510 other disc golfers for the
2010 Amateur World Championships
. Last year's trip to the KC Worlds was a blast, so I figured why not go again?
Although I enjoyed my reign as the #1 non-cashing AM1 at Worlds last year, my goal this year is to cash in Advanced Masters. Yep, I've moved to Masters and will probably be the youngest old guy in the division.
Check back each day for news and photos and be sure to send me some positive mojo throughout the week!